$60 per 60 minutes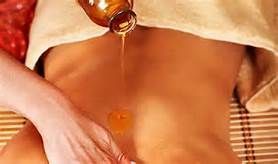 The marma massage can be used as a part of a rejuvenation therapy or it could be used as preventative measure from unwanted conditions. Either way, marma massage is a really useful way to help improve or maintain an individual's health balance.

$60 per 60 minutes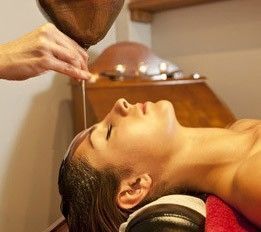 The key from Ayurvedic Shirodhara is to steady the mind, strengthen the senses and the classic external treatment for mental strain, insomnia, stress, ten-sion headaches, migraine and anxiety. This treat-ment includes a soothing upper body Abhyanga Massage.

$60 per 60 minutes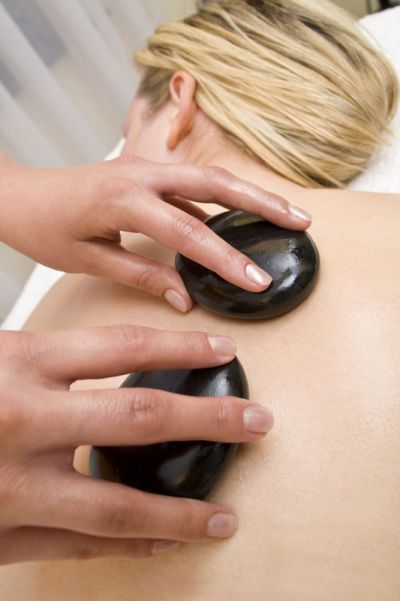 For deeper cleansing and full body release, the hot stone massage treatment combines abhyanga mas-sage with the heat and weight of smooth river rocks placed at specific energy centers to purify and stabilize the whole body

$60 per 60 minutes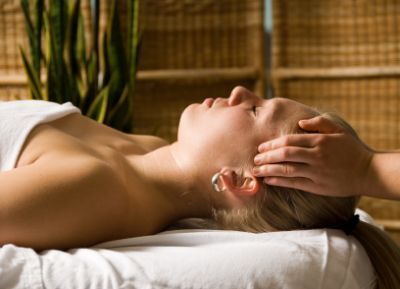 This deeply relaxing sequence focuses on the areas where we carry the most stress and tension - the head, neck, shoulders and upper back. The clarify-ing massage oil helps to liberate fresh energy throughout the whole system. To complete the therapy, fresh rose water is applied to cool and nourish the crown.

$60 per 60 minutes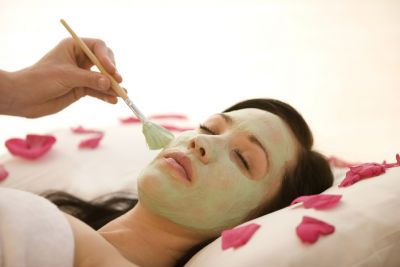 Our Ayurvedic facial treatment freshly prepared botanical ingredients to cleanse, nourish and revive all skin types. A soothing jade roll purges impuri-ties, awakening inner radiance that melts you're your facial tensions and strain.
(Ayurvedic Facial deep cleansing 60min . $55)

$60 per 60min
The Gold Facial, based on Ayurveda, is a powerful anti-ageing treatment, with revitalizing and rejuvenating effects. Gold is one of the softest metals and is easily absorbed by the skin. It helps lymphatic drainage and facilitates the removal of toxins and wastes. It also stimulates blood circulation and improves skin elasticity, accelerating cell renewal and reversing oxidation damage.
Products Required: 24 Carat Gold Skin Radiance Gel, 24 Carat Gold Skin Beautifying Mask, Shacleanse/Shamoon, Lavender Skin Tonic, Shaweeds Mask, Pink Lotus/White Water.
* The Gold Skin Radiance Gel is a dual complex, consisting of a Moisture Enhancer and Gold Gel.
* Deep pore cleansing may be provided with the facial.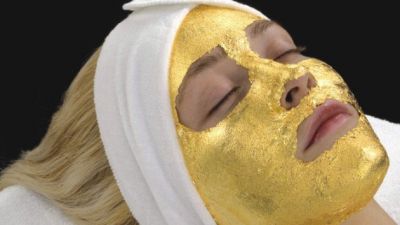 * Complimentary hand massage may be provided with the facial.

$60 per 60 minutes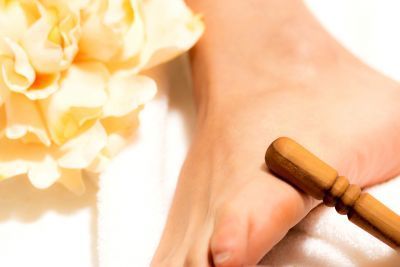 Feet are very important part in our body, as many nerves from many organs terminate in the feet. So massage helps to strengthen these nerves and restores health to many parts of the body. The marma (vital) points are massaged which gives balance to your dosha and is very helpful for peo-ple with insomnia, fatigue and cramps.

$60 per 60 minutes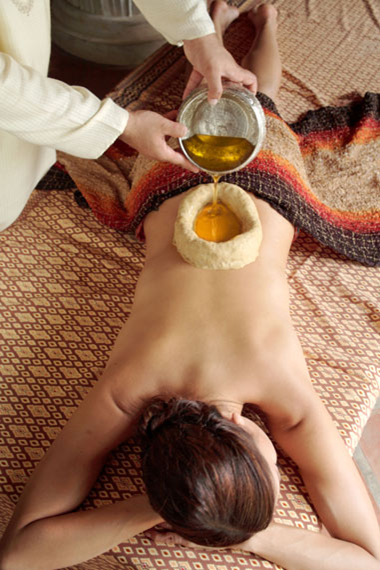 Travel tends to raise Vata, the wind and space ele-ment in our body, often causing constipation, & insomnia. Kati Basti is the traditional pain relieving treatment for mid to lower back ailments Please book this on a day and time that you can rest for a few hours directly after the treatment.

$60 per 60 minutes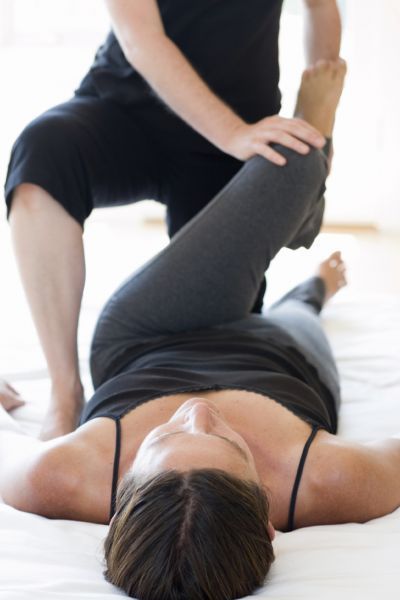 Our strongest massage combines assisted yogic stretches and Marma pressure point therapy with medicinal oils, designed to remove blockages at various energy centers of the body, re-vitalizing the whole system.

$60 per 60 minutes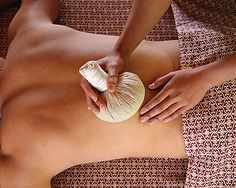 The muslin cloth is steamed so that the healing and soothing properties of the herbs are intensified. This herbal ball is then used to rub hot oil on your body. The herbs mix with the oil and relax your body. The herbal qualities are carefully selected so that they blend well together and form a therapeu-tic mix that will benefit the specific ailments and complaints of the person being massaged. The hot steam allows the oils to penetrate deeper into the tissues to liquefy, loosen, and remove impurities and deep seated toxins through the skin.

$60 per 60min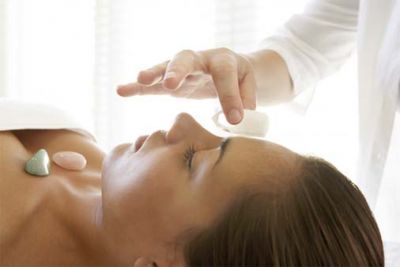 The Chakra Healing Attunements work to cleanse and heal the chakras from old issues and negative energies that are being held there. A healing attunement is like a super-charged healing session and is an extremely powerful way to make changes in your life quickly. If you are not used to running energy then it is recommended to receive one attunement at a time.

With any attunement process, you may experience a clearing following the attunement. This could include physical detox or emotional release. Please know that any clearing processes are temporary and will ease as your energy adjusts to the new level.

$50 per per person or $65 per person
A minimum of 12 person are required to book a spa party (max 20)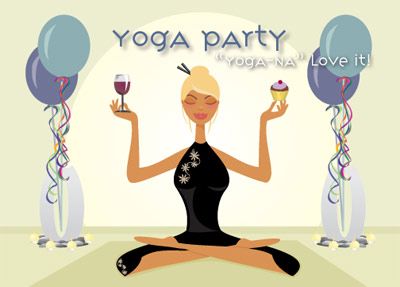 $65 (includes Indian food tasting + margarita, pina colada or daiquiri (non alcohol + mini spa services for 3 hrs. "tip is not included")

$60 per 60 minutes
Ayurveda is a health science from an era when all women became more radiant and healthy in the process of bringing new life.
These m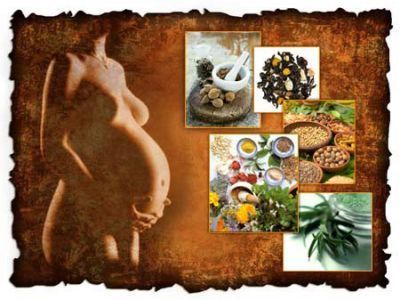 assage offers a safe and relaxing way to relieve some of pregnancy's discomforts. Nurture both you and your baby from the first trimester through to post-partum recovery. Specialized massage and subtle energy techniques provide a balance of the body, mind, and spirit. Your Ayurvedic pregnancy massage soothes the common aches and pains of pregnancy by increasing circulation in the most affected areas such as feet, legs, and back . It also improves comfort by reducing general water retention and swelling.

$60 per 60 minutes
Avarna – Sanskrit for "envelopment" – is a beautiful description of the enveloping and cocooning effect of the Avarna body wraps. The treatments are dosha-specific (corresponding to your ayurvedic type) and designed to nourish, hydrate, tone, ground and revitalize your being. You may select from the following:
Chocolate: just the smell of chocolate will activate pleasure-anticipation and food-reward neurons. Its absorption through the skin, coupled to smell activation, will increase endorphins. This, will elevate the mood and improve how the client feels.


Clay: Minerals found in clay deliver nutrients to skin.The warmth provided by a clay body wrap improves circulation and relieves aches and joint pain. Improve circulation and to reduce inflammation and pain.

Algae: Using the finest seaweed, this body wrap tones, detoxifies, and helps rebuild the collagen and elasticity of your skin therein helping with the appearance of cellulite. If you have problems with aching bones, arthritis, joint pain or water retention a weekly seaweed body wrap can be beneficial to you as well. Algae is packed with amino acids and vitamins, making it an appealing ingredient to draw out toxins from the skin naturally. Algae wraps are believed to minimize water retention and eliminate harmful toxins and aid in joint pain.

**NOTE: Do not use an algae wrap if you have seafood allergies or are allergic to iodine.

$60 per 60 minutes
Massage therapists primarily use the rusian bentusas (cups) to do massage strokes (after applying Boswellin "anti-inflammatory" cream to your skin), although they may also leave the cups stationary. Techniques include making long strokes along your muscles, using the edge of the cup to scoop over a muscle, and making vigorous circles.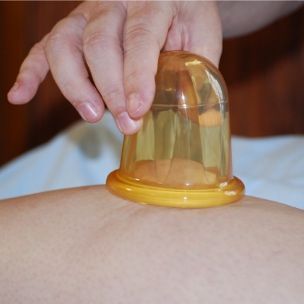 Although the techniques used by deep muscle therapy practitioners are very similar to Swedish massage, the strokes are applied with more pressure in order to stimulate the deeper muscles and surrounding tissues. A therapy such as deep tissue therapy depends largely on client-therapist trust. This is because deep tissue therapy is often uncomfortable, compared to a traditional relaxation style of massage (such as Swedish massage), and the therapist will only massage as deeply as the client is comfortable with. This means that the client must keep their massage therapist informed of their pain tolerance at all times during the session.
The Bentusas can leave temporary bruised marks on the skin. Where there is dead, st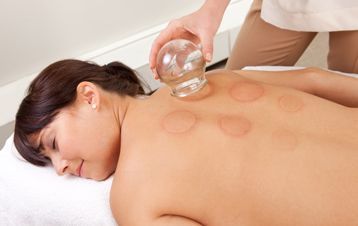 atic blood, lymph, cellular debris, pathogenic factors, and toxins present in the body, Cupping can leave marks which indicates that the stagnation or disease has been moved from the deeper tissue layers to the surface.
Once you understand what these marks are, and feel the results - the concerns disappear.